And steamboat session at Theing's house! =D
#1 Hell yeah the bf was going together with me.
Age isn't an obstacle in a relationship when he can and willing to mix around with my friends.
I guess I'm too lucky to have him.
#2 Variety of foods! 不怕你饿只怕你吃不完!
This was for the outdoor only.
#3 My favorite BBQ foods, chicken wings!
I ate chicken wings more than sausages, love!
#4 We arrived pretty late on that day due to super traffic jam.
Almost gave up and call Theing said we will turn off but then already at highway... So yea, just go ahead.
#5 Left: Yong Kang, ma bf, ME, Jingle, Vincent.
Picture taken after chicken wings in tummy. Yumss
#6 Barbecue were toasting, so hot but still irresistible.
#7 Hello kitty background, it's kitchen door actually. I got no idea why my fringe was so weird on that day.
Ignore ignore ignore.
#8 Rest for a while after barbecue and continued the third round, steamboat.
Poor guys stuck in the traffic for 3 hours and they finally reach on 10pm. LOL
I doesn't eat much because I was having dinner before the barbecue. Fat fat fat come to me oh yeah!
#9 Dishes washing after eat. We were such good girls!
#10 Then Theing photo booming. lmao
#11 Gambling session was a much everytime visit Theing at SP.
Spotted the snacks, eat eat eat again.
#12 Cam whore because I don't gamble. Left: Sonia Chan, Jingle, ME, Theing, Teresa Sasa.

#13 With the bfie!
#14 All the photos taken from Theing's FB. Same goes to previous post because I rarely bring my digital camera along after having iPhone. Poor pinky.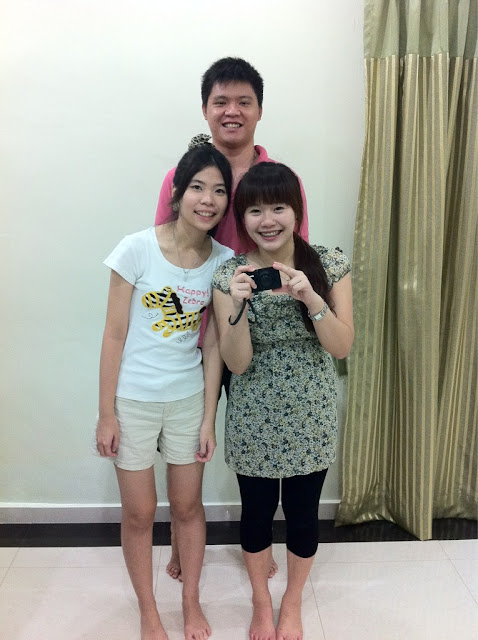 #15 I wanna take picture with Theing but the one behind us like beh paiseh don't wanna go away. Hahaha
Went back pretty early that day compare to others because I was so hot and sticky after a whole day outing without shower. Beh tahan.
That's all for the partay. Kittie you missed it!
Till then, byes!