Hello everyone!
Whoever still read my blog after a month with no blog post at all, thank you very much!
At least this is still somebody site with somebody walked by.
Seriously degree is not easy, my time filled up by assignments and exams last month.
I was so lucky that I still survive under pressure.
Now I am happy again because I had finished them all and I got 3 months plus holidays!
Y E A H
I shouted loud happily when I arrived home because I was so exhausted prepared for assignments and exams. And yea, I have started my holidays! Super happy!
Picture above taken during shopping haul at Hatyai, gonna blog about that soon!
Today gonna blog about free stuffs!
Who don't like free stuffs? Everyone love because you don't have to pay for it. Kaching kaching saved.
Me like to take free stuffs too, most of them are samples.
#2 I even prepared a place a box actually to put those samples.
#3 There are a lot more, these are what I have now.
Used a lot of them during travels, samples are easier to carry during travel, save luggage capacity some more.
Samples can be get through purchasing at outlet and register online. Will speak about this later in this post.
#4 I haven't use these yet. These are from bliv where I purchase a box travel pack including these and bliv mask. Bliv mask is super awesome! Give it a try and you will go megusta! =D
#5 Skin care outlet like Skin Food and Sasa always giving out samples when you purchase. Btw samples from Skin Foods are kinda large.
How about the rest? Where did I get them?
It is easy, you just have to pay attention to your favourite brands Facebook.
#6 Like Clarins, I remember when they launch this shaping serum, they put an announcement in their Facebook page that everyone can stand a chance to get V-shaped angle. Just by register!
Easy or not?! Then you can go and redeem samples at their selected outlets.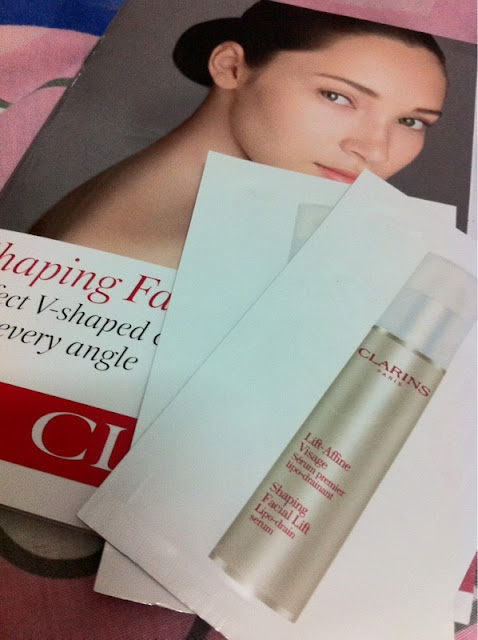 #7 Another from Clarins is their sunblock! I tell you, this is the best ever sunblock I had ever use! Ohmy, looking at this picture is like pursuing me to get a bottle for myself! Dang
SPF 40, on face, seriously no oily, and after you apply your face will look whiter and shiner.
Seriously this is good stuff! I would purchase this once my sunblock is finish.
#8 Burberry sent this newly launched fragrance sample to my doorstep.
Yea, to my doorstep. What I did was LIKE their Facebook page, and register my basic details.
Then they sent me this Burberry fragrance in within two weeks. How sweet!
Btw I liked this fragrance, long lasting and the smell is so nais!

You won't believe there is something better than this.
LIKE
Freebies
Facebook page and you will be updated with whatever good deals in Malaysia.
Including samples giving away, promotion and etc.
This is where I get all the information from.
Go like like and get deal deal!