So I am here, blogging in the early morning. *Sleepless night
Anyway, this is something big that I must blog because it's only once in a life time.
Wedding of my friends, Wui Leong who I preferred to call him Gigi and Xin Hui.
Wedding on 29th May and dinner on 28th May.
Let's start with the dinner part first.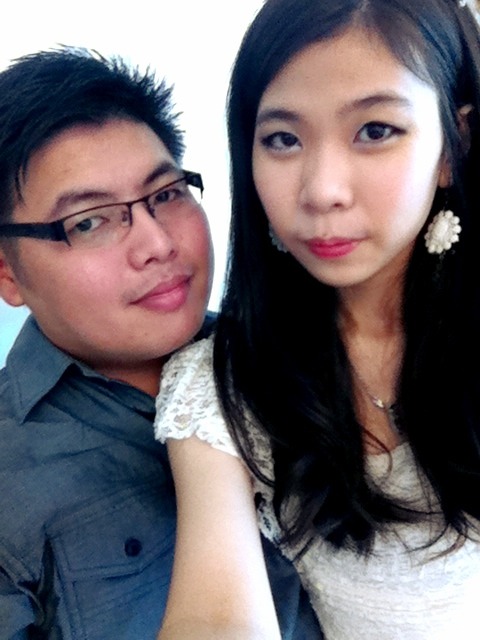 Me and the boyfie have to ban leng leng before 3pm.
Then we headed to bridal shop to progress the car decoration stuffs.
However, due to the inefficiency of the bridal shop, the car only been decorated on 430pm instead of 330pm.
Not to mention which shop was that cause Imma put it in my blacklist. =P
Wasting our time.
Here are the ready to marry couple!
Gigi was the huge fan of Snoopy.
The snoopy will later tie in front of the car. Super cute!
Then we were chit chat and cam whore while waiting for the bridal service.
Anyway, the weather was super hot on that day!
Preparing outside the restaurant.
By the way we arrived kinda early together with the newlywed.
This scene was taken by ME!
Gigi was helping Xin Hui to wear the shoes. *Romantic
Then picture time!
Three of them are friends for more than 10 years.
This is the prove of BFFs!
This was the gang of the boyfie since N years ago.
Seldom hang out but I still remember them!
Them = the boyfie sei dong.
I was dang tired after that night because I only ate breakfast before the dinner.
Hungry like hell and I was informed the dinner will only start at 830pm.
Almost fainted in the restaurant.
Then I some more eat a bit only, afraid of vomit and stomachache if eat too much after hell starving.
Then after the dinner went to eat some more. =.=
OK, proceed to the next morning.
Another sleepless night. OMG
Woke up in the early morning and breakfast with the gang.
Only few turned up the rest PPK. =.=
Wearing my favourite top and skirt! Love love!
The ji mui group!
I only knew two persons in the picture, exclude the bride. =.=
Some must-go-through process before the gaming session.
So many cameras chi chak chi chak!
A happy ever prince and princess story! =D
End the post with ME! =P